Using satellites as a topic of inquiry, this project explores how to visualize things that are too big to easily understand.
PROJECT DETAILS_This exercise took on the task of unpacking a complex topic, like that how a satellite works, through an animation. In turn, taking advantage of all of the channels that video/animation affords to communicate content in hopes of futhering a viewers understanding.
TEAM_Joe Hines - Communication Design Studio
TIME FRAME_3 Weeks
METHODS_After Effects, Sketch, Illustrator
How might you visualize things that are too big to easily understand?
PROCESS + IDEATION
This animation exercise focused heavily on the development of a clear narrative and the production of a cohesive visual style. As a result, it was essential to be in constant conversations with my peers and other viewers to ensure that the decisions being made adequately communicated the complex content.

PROCESS TIMELINE
The production of this animation relied upon peer review as the main tool for decision making. Once the initial research was gathered and a general narrative was produced, a series of in-class workshops were conducted to aid in defining the actors and relationships that would best communicate "How Satellites Work."
DEFINING ACTORS
The processes that define the lifecycles of man-made satellites are both complex and exist at a scale that is hard to comprehend. In an effort to unpack this information I began by breaking these processes into its most basic actors. Visualizing these essential actors brings about challenges surrounding how to represent abstract concepts like data transfer and changing of frequencies.
DEFINING RELATIONSHIPS
With the basic set of actors established, the next step in the development process was to begin to define the essential relationships that exist when describing man-made satellites. I began this study by establishing what defines the lifecycle of a satellite. The sequence starts with the launch, then moves into the deployment of the satellite in space, its orbit around the earth, the process of transmission and ultimately the moment where it is decommissioned and becomes "space junk."
THE NARRATIVE
In order to help viewers of this animation enter and move through the content, I established a linear story that slowly builds on layers of information. Using a swim-lane style storyboarding technique like the example below, allowed for the visual form, narration, and transitions to all be considered simultaneously.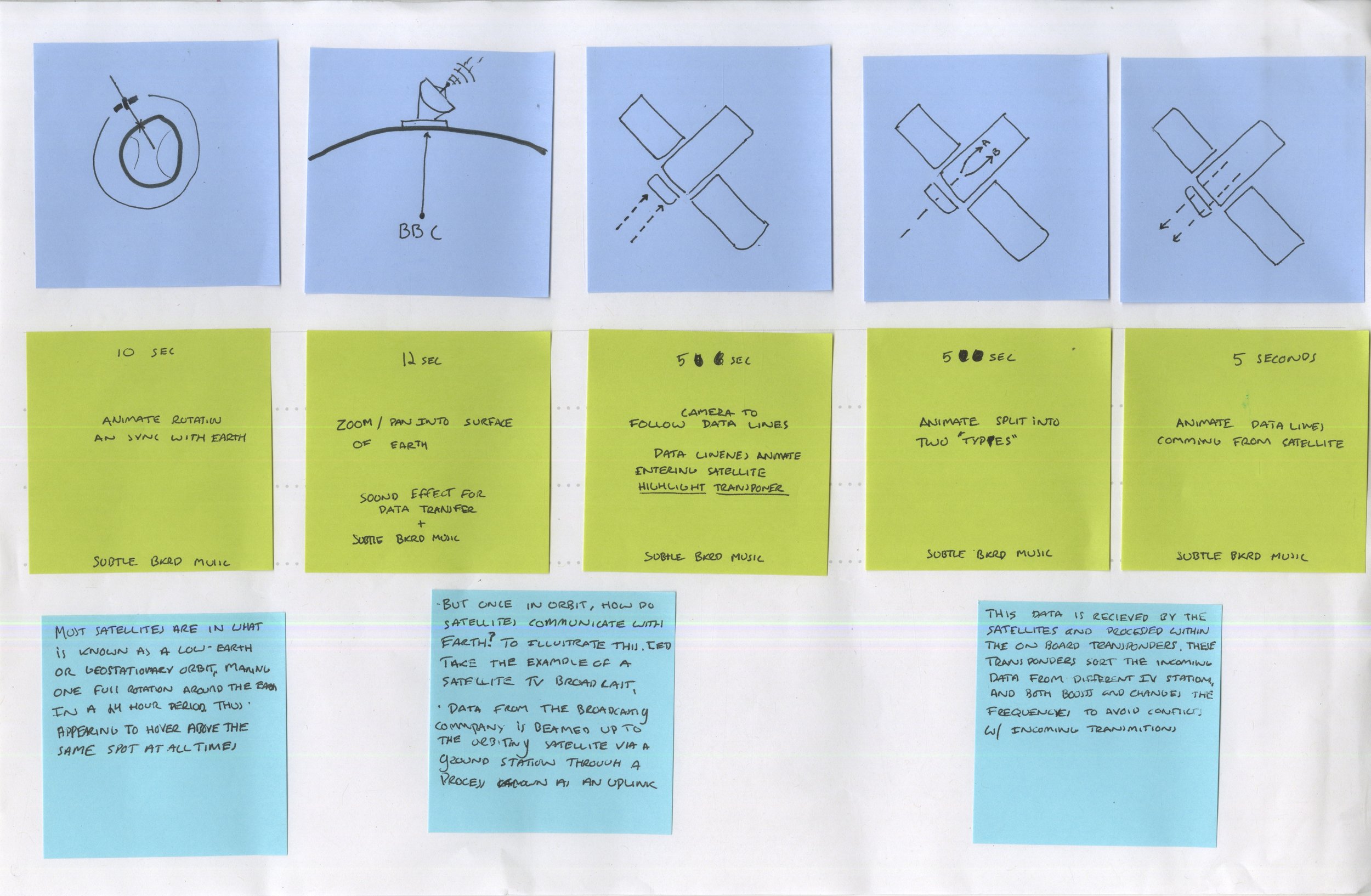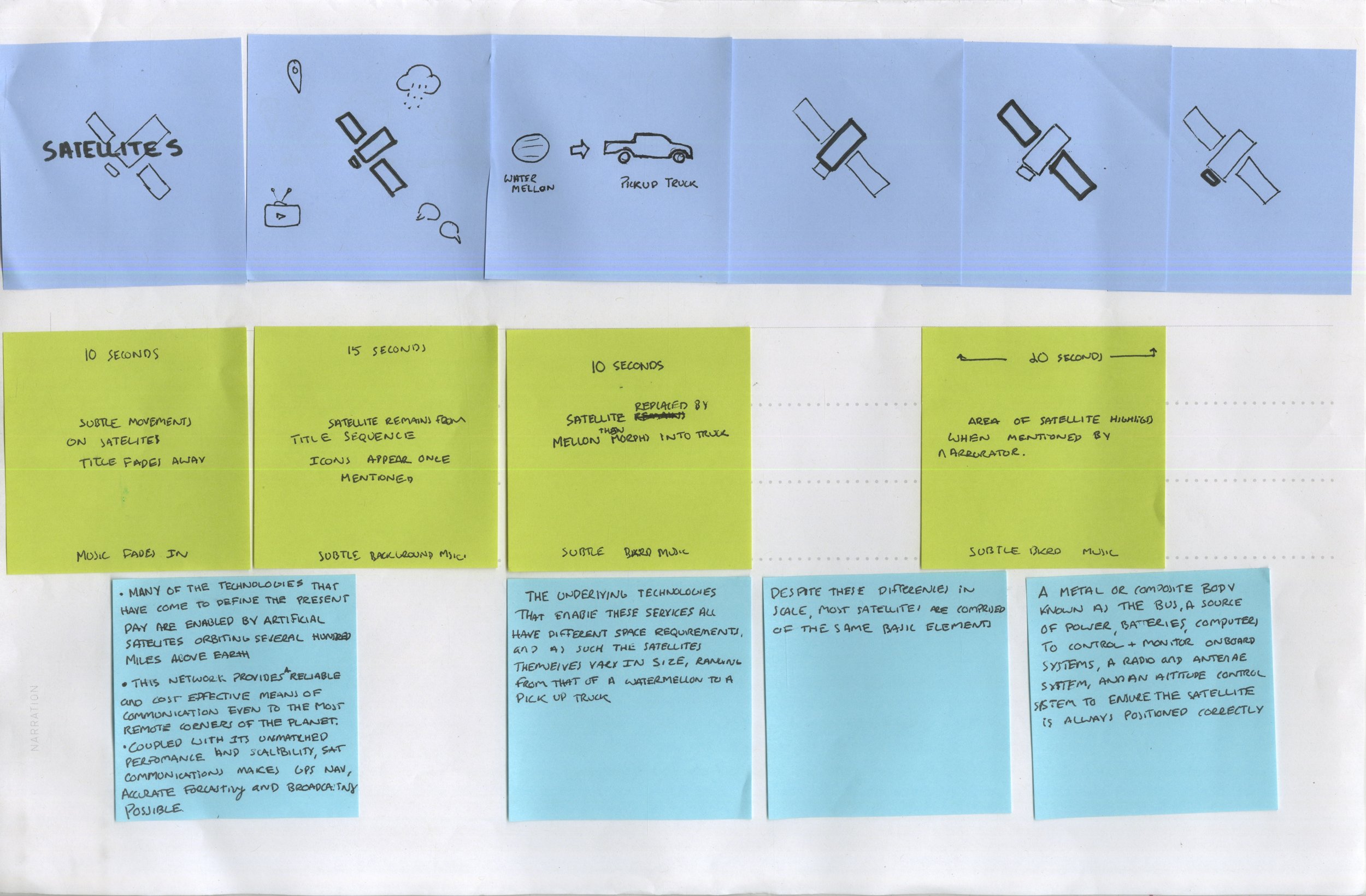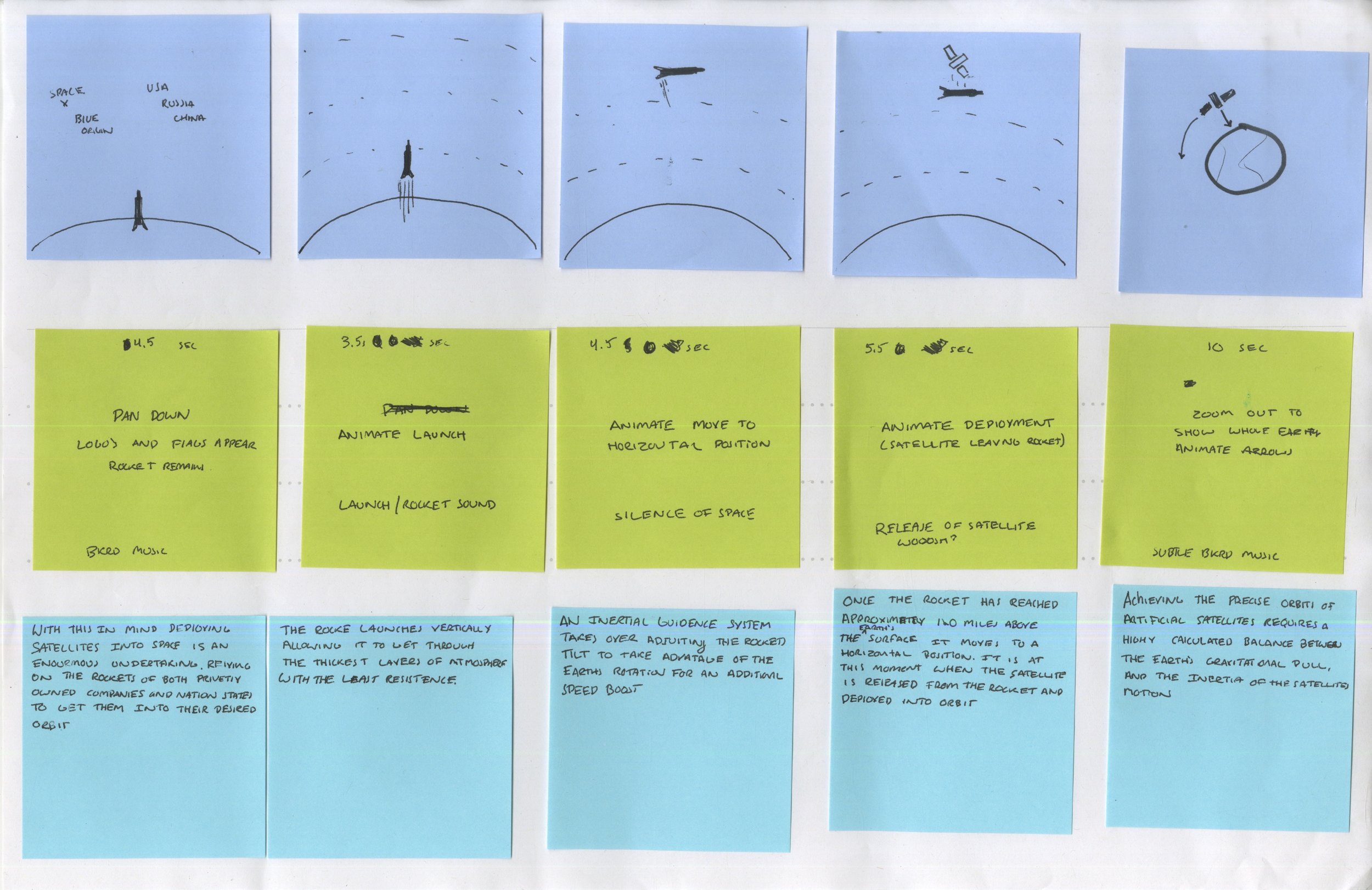 VISUAL STYLE
Drawing inspiration from screen printed star maps, the visual style of the animation keeps to a monotone color pallete. As a result line-weight and varying levels of opacity were employed to establish a visual hierarchy.
ANIMATION + REFINEMENT
In order to indicate importance, movement and glow were employed as tools to focus viewers attention on the issue being discussed at any given time. The final animation relied upon a combination of visual form, aural elements, and transitions to communicate the complex relationships that surround the topic of "How Satellites Work."

PROCESS BLOG
A blog post detailing the complete process working through the animation exercise.